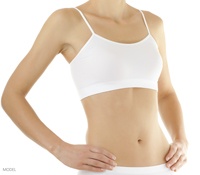 The abdomen is one of the most common areas of concern for people. With weight fluctuation, pregnancy, and aging, the abdominal wall can change drastically in appearance. Plastic surgery can restore a more flattering torso with procedures like liposuction or a tummy tuck. However, many patients have difficulty deciding which procedure is the best choice for them.
In this blog post, I'll review a few considerations to keep in mind as you decide which procedure may be best for you.
Tummy Tuck
A tummy tuck (abdominoplasty) is best for people who have excess skin and fat around their midsection. It is especially beneficial for moms and weight loss patients because it restores abdominal muscles that were stretched by pregnancy or weight gain (a condition called diastasis recti). In some cases, tummy tuck surgery can even remove stretch marks around the lower abdomen. People with weakened abdominal muscles and redundant skin who want a flatter, firmer torso are the best candidates for this procedure.
It's important to note that a tummy tuck is not a weight loss surgery. My general rule is that if excess skin is your main concern, a tummy tuck is likely your best option. If excess fat is your main concern, however, you may be better off focusing on liposuction.
To see more real patient tummy tuck results, please visit our full gallery of  before-and-after photos.
Liposuction
Liposuction is a body contouring procedure that removes fat bulges such as love handles. It is ideal for people who are already at a healthy weight and who require no additional muscle tightening. Liposuction will not remove excess skin as a tummy tuck will, so patients must have good skin elasticity for best results. However, liposuction can be used to enhance the contouring effects of a procedure such as a tummy tuck.
Learn more about the different liposuction approaches available in this blog post.
To see more real patient liposuction results, please visit our before-and-after photo gallery.
Knowing What's Right
Your surgeon should be able to explain each procedure in detail and help you make the right decision. By selecting a highly-trained, board-certified plastic surgeon for your procedure, you can take comfort in knowing that you are receiving reliable information from a trained professional.
If you want to learn more about tummy tuck surgery at my Downer's Grove, IL, practice, please contact us online or call (630) 960-0023 to request a personal consultation.