You've heard the horror stories of botched cosmetic procedures, and as of late, particularly about Brazilian butt lifts. Fortunately, you can take certain steps to prevent them from becoming your reality. One of the most important things you can do is research to find a surgeon in your area who is certified by the American Board of Plastic Surgery. I am a dual fellowship-trained, board-certified plastic surgeon, and your health and safety are my top priorities. Here at my Downers Grove, IL plastic surgery center, you can be confident that you are in good hands.
What does it mean to be board certified?
Plastic surgeons who are certified by the American Board of Plastic Surgery:
Have completed 6 years of surgical training
Have passed a series of oral and written exams
Must complete testing and continued education requirements to maintain their certification
Only operate in accredited facilities
Follow a strict code of ethics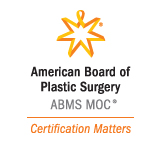 Do not be confused by other official-sounding certifications. The American Board of Plastic Surgery is the only board that is recognized by the American Board of Medical Specialties—the highest standard in American medicine. Though it can be beneficial for your surgeon to be a member of different professional medical societies, ABPS certification can assure that your surgeon is truly qualified and highly trained. In fact, I am not only a diplomate of the American Board of Plastic Surgery, but I am also an active member of the American Society of Plastic Surgeons and The Aesthetic Society.
Why is board certification vital for Brazilian butt lifts?
Though board certification is an essential qualification for any cosmetic procedure, it is particularly important for fat grafting procedures, such as a Brazilian butt lift. These procedures carry risks based on the depth and location of the fat placement. To provide the intended results, the surgeon must clearly understand the complex anatomy of the area where the procedure is being performed. I not only went through 6 years of plastic surgery residency, but I am also among the handful of doctors to complete an additional 2-year clinical fellowship after my residency. I have also been performing fat grafting procedures on different areas of the body for many years and perform more than 100 of these procedures in a given year.

How are Brazilian butt lifts performed?
As I mentioned before, finding the right surgeon for your Brazilian butt lift is important. This is because the procedure can be a bit more complicated than other procedures and involves several steps:
Consultation: Your journey will begin by scheduling a consultation, so we can evaluate your skin elasticity and give you more information about the procedure.
Liposuction: We use liposuction to remove unwanted fat from 1 or more areas of the body—usually the lower abdomen, hips, or thighs.
Purification: Then we take these fat cells and purify them by removing any fluid or damaged cells. Using only healthy cells helps you achieve optimal results.
Augmentation: Finally, we inject the purified fat cells into the buttocks using a special device designed to produce enhanced, yet natural-looking contours.
Recovery: After the procedure, patients must carefully follow post-op instructions to get the best possible results. The recovery process normally takes a few weeks, but the length of time can vary depending on the individual patient, how much fat is grafted, and other factors.
Enjoy Your Results: It will take a few weeks before you will be able to see your complete results, and you can expect them to last for years. Your body will continue to age, but BBL surgery is designed to permanently re-contour your buttocks.
Unlike other butt enhancement procedures, BBL surgery does not involve implants. Because the procedure uses your own fat, there is little risk of your body rejecting the new fat like it might reject implants. Fat grafting also produces more natural-looking results.
If you want to learn more about fat grafting or Brazilian butt lifts, or are ready to take the next steps, request a consultation online or give us a call at (630) 960-0023.